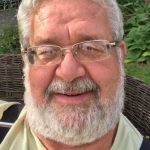 By Neal Lemery
I feel stuck. I didn't think I had been creative lately. My blog is missing a new post, my writing tablet doesn't have new sheets filled with my pencil writing, my guitar is dusting and out of tune.
Despite my self-rated idleness, I realize that creative juices still flow, however, in different ways. I've been busy in the kitchen turning apples from my trees into sweet packets of apple pie filling for those rainy days to come. I slowly simmer the last of my harvest of tomatoes in a sweet and tangy sauce for hearty pasta dinners, topped with warm apple crisp. I savor the richness and abundance of the harvest, in all its forms.
My hands play in the dirt as I plant tree seeds for my new bonsai project and potty the last geranium cuttings that have taken root this summer without my special attention. The last cucumber in the garden is harvested and the composter fills with the remains of the summer garden.
There is the promise of future planting and future abundance, and I dream of guitar chords and strumming patterns, and yearn for new ideas, new expressions to explore.
The fall rains have started and I am sitting in the eaves listening to the music of the rain, while excerpts from unborn poems are recorded in my journal. There can be such richness in moments of silence and "just being".
Coffee with a friend produces rich conversation on serious topics, with the few moments of silence over our cups providing fertile ground for new writing. We plow familiar ground, leaving the soil of our friendship fallow, preparing a new season of fertility.
Like the season, it's both a time of harvest and composting, turning depleted plants and the last summer energies into material that will produce the spring blasts and summer bounty. I remember that the coming winter is simply a time of rest, renewal and necessary silence and contemplation. Winter has its own noble purpose, its own role to play in the cycle of life.
Everything has its time, its season. Now is the time to be patient, to rest and to observe.
I'm not really stuck, I take a step back, I take a well-deserved rest, I absorb the beauty and the loneliness of autumn, this period of transition and rest. I take a deep breath and just watch. And, it celebrates my creative spirit.
I recently encountered these nuggets of wisdom, and they need to sit with me, with no immediate response, as I listen to the rain replenish the soil after the heat and drought of summer. The falling rain is an act of renewal and faith, guiding me in my own creativity and my work….