A civil servant with a net worth of Ksh 1.1 billion has lost control of his accumulated wealth over time while working for the government.
The official, who works for the Kenya Rural Roads Authority (KeRRA), owns property in four counties including Nairobi, Machakos, Makueni and Kilifi.
Among the properties he lost control of are two buildings in Kariobangi, three apartments in Mathare, one building in Dandora, six plots in Wote town and two others in Athi River. Prime properties and apartments are valued at Ksh 237 million.
A block of flats in Nairobi.
To file
The loss of control of his wealth follows a complaint filed against him by the Ethics and Anti-Corruption Commission (EACC), questioning how he acquired the properties and amassed such wealth while working as a civil servant.
Along with his wife, the official, who is regional director of KeRRA, went to court seeking control of their seized assets, including two businesses and three schools.
By a decision issued by Judge Esther Maina on Thursday, February 3, the official was barred from entering his properties pending a decision on the complaint filed by the EACC.
"I listened to submissions from both sides; the court is satisfied that the balance of inconvenience tips in favor of the EACC, and as such, I allow their motion to freeze the assets, pending the hearing and the prosecution's decision," the judge said. .
His wife was also implicated in the case as the court stopped her from selling an apartment worth Ksh 5 million in Imara Daima estate.
The couple own other properties worth Ksh 100 million registered in their names and those of their schools.
The official had nine bank accounts with different banking institutions across the country. His wife also reportedly had three accounts. They also operated eight other accounts registered under the schools they own.
"They are also prevented from selling or disposing of any of their five vehicles, transferring their shares to any of the banks worth Ksh 2.2 million or redeeming their insurance policies from a worth Ksh 20 million and in another insurance company worth Ksh 10 million," Judge Maina said. .
The court heard that the official was engaged in schemes to conceal the illicit assets of his family members, including his wife and businesses registered in their names.
He was accused of amassing wealth from road contractor kickbacks and, in some cases, withholding payments meant to be given to other staff.
In total, the EACC says the road engineer, his wife and the companies accumulated assets in properties, bank and mobile deposits, motor vehicles, listed shares and insurance policies totaling 1.19 billion Ksh.
In his response to the accusation against him, the official dismissed the witch hunt allegations noting that he could account for all of his wealth.
With March 1 set for the next hearing, the official argued he had a good record insisting he should be allowed access to his wealth.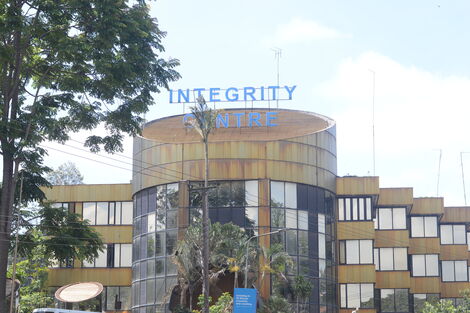 Offices of the Ethics and Anti-Corruption Commission (EACC) at the Integrity Center in Nairobi. Monday November 18, 2019.
Simon Kiragou
Kenyans.co.ke